UPCEA is the online and professional education association. Our members are continuously reinventing higher education, positively impacting millions of lives. We proudly lead and support them through cutting edge research, professional development, networking and mentorship, conferences and seminars, and stakeholder advocacy. Our collaborative, entrepreneurial community brings together decision makers and influencers in education, industry, research, and policy interested in improving educational access and outcomes.
UPCEA is a diverse, inclusive organization supporting and welcoming individual and institutional diversity. We strive for diversity in membership and leadership, including representation from all types of institutions and individuals from all races, genders, and backgrounds.
Let's get started by logging in to your UPCEA member account at upcea.edu/login and taking a look around. You can customize your profile and password, register for conferences at discounted member rates and join one of our eight professional networks. No matter how long you've been in higher ed, you can find value in UPCEA's online portal.
Members also have access to CORe, UPCEA's member community and online networking space where you can ask, answer or search for questions on relevant topics.
Need help? Call us at 202.659.3130 or email [email protected] if you have trouble logging in or need assistance.
It's Your Network
Everybody talks about the importance of networking, but how often do you get to do it with people who really understand the business of online and professional continuing education? That's where your UPCEA membership is key! With more than 15K individual members now engaging in CORe, your network just got a lot bigger, more accessible and relevant.
Today, the field of online and professional continuing education is characterized by engagement in very complex, highly specialized areas of practice. UPCEA's eight Networks are designed to serve professionals practicing in the key areas that define this vibrant and growing sector of higher education.
At UPCEA, we know that sharing with colleagues and developing lifelong friends is more than just social — it's a critical business investment in your institution's ongoing success and your own career advancement. There are abundant networking opportunities at UPCEA's conferences and seminars, but you can also get advice, answers and ideas from your colleagues online via CORe, UPCEA's professional networking platform.
Your membership gives you full access to:
✚ Active conversations, and the chance to ask your questions in real time
✚ Access to join any number of UPCEA's eight Networks
✚ Robust search of conversation archive
✚ A diverse resource library
✚ UPCEA's entire member directory
✚ Exclusive member content — including benchmarking studies, conference session slides, and webinar recordings
---
Specialized Areas of Practice
Join a Network Today — Choose One Or All Eight!
As an UPCEA member, you can join the Network that's best for you! Visit upcea.edu, log in to your member portal, and then select the "Browse Networks + Committees" link in the "My Networks + Committees" section. Then click "view" next to the committee of your choice, then scroll down to "committee tasks" and click "join."
Read below for a short description on each of our Networks.
Alternative Credentials
The mission of the Alternative Credentials Network is to share best practices and emerging trends related to non-degree or non-credit credentials, sometimes considered alternative credentials by postsecondary leaders. This is done through the exchange of ideas, programs, services, and initiatives that expand member knowledge regarding new, innovative, and entrepreneurial programs to serve the needs of diverse learners.
Business & Operations
The mission of the Business and Operations Network is to share best practices and emerging trends related to the business and operations as well the strategic imperatives of professional, continuing, and online (PCO) units at post-secondary institutions. We do this through the exchange of intellectual resources and expertise specific to work focused on the financial, human, operational, and IT resources required to support units that are entrepreneurial in nature.
Community and Economic Engagement
The Community and Economic Engagement Network's (CEE) core mission is to support network members in promoting new and innovative, internal, and external collaborations to help advance local and regional communities and economies and extend the reach of campus communities. The network represents university outreach and engagement, inclusive of community, economic, and workforce development.
eDesign Collaborative
The UPCEA eDesign Collaborative (eDC) Network, serves higher education instructional design teams (instructional designers, multimedia developers and team administrators) in higher education seeking networking and professional development. Participation in the eDesign Collaborative Network provides access to a community of professionals who are interested in best practices for online course creation.
International
Educational institutions are embracing the need for global competencies, are incorporating international concepts into the curriculum, are continuing to develop satellite campuses and are actively pursuing international students, international faculty, study abroad and exchange opportunities, philanthropy, etc. And these changes are happening in countries all over the globe—not just in the United States. The International Network is an indispensable resource, leading the profession toward a prominent role in navigating the globalization of the academy.
Marketing, Enrollment, and Student Success
The MESS Network engages members in actively building the competencies, skills, and confidence needed by today's professionals to successfully attract and retain students in an ever-changing and increasingly competitive adult, continuing, professional, and online education marketplace. The Network focuses both on powerful fundamentals and on new and emerging marketing, enrollment, and services practices that come from both inside and outside higher education.
Online Administration
The Online Administration Network (OA) serves as a bridge between the administrative functions of online learning (marketing, online student services, program development, etc.) and the design of online learning. Participation in the OA Network provides access to authentic institutional online operational models, best practice trends in online management, professional analysis of learning design applications, and the formulation of best practices in the use of technology and learning design in online instruction.
Program Planning & Implementation
The PPI Network provides a forum for members to share and explore program management best practices and innovations in credit and non-credit programming. The Network supports the professional development needs of program coordinators, managers, and directors and the similar competencies necessary to be successful professional, continuing, and online leaders. The network is a community that strives to identify, develop, and sustain innovative programs. 
Did You Know?
Anyone can join a Network — all you need to do is sign yourself up! UPCEA members have access to eight professional Networks, including the eDesign Collaborative for instructional design teams.
Industry Leading Events

Attend or view webinars on your schedule, and connect with peers in your area at a free, virtual regional event — especially useful for new or mid-level professionals. Share your lessons learned with colleagues by presenting a conference session, and get involved with the association by becoming a volunteer leader. Connect with other high-level leaders through the Annual Conference and all our events.
MARCH 26-28, 2024
2024 UPCEA Annual Conference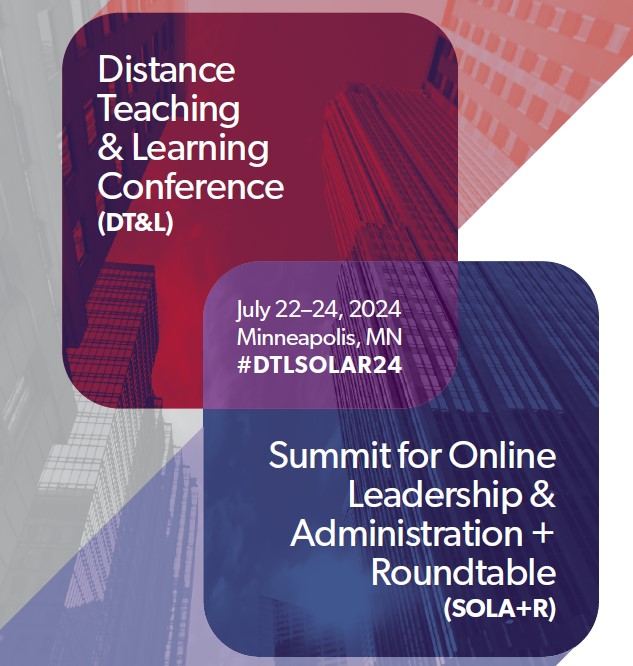 JULY 22-24, 2024
2024 Distance Teaching & Learning (DT&L) and Summit for Online Leadership and Administration + Roundtable (SOLA+R)
SEPTEMBER 30 -OCTOBER 2, 2024
2024 Convergence: Credential Innovation in Higher Education
Presented by UPCEA and AACRAO
New Orleans, LA
Regions - Your Place For Local Networking!
UPCEA's five regions provide opportunities for members to examine issues of local and regional importance, develop collaborative initiatives, network with area colleagues, and take advantage of cost-effective professional development at regional events. Regional content is especially useful for new and mid-level professionals who will discover opportunities to build leadership skills and learn from our industry's best in a smaller, more intimate conference setting. Take part in a leadership program, build your skills as a presenter, or nominate a program or person from your region for a regional, national or marketing excellence award.
Use the map to find your region!
Research and Best Practices
UPCEA members can sign up for and read UPCEA publications to be in the know with the latest news and trends in the field. Also, with exclusive access to our research and benchmarking reports to see how you compare to other institutions. You can also get custom research to help refine your strategy, and receive recognition for institutional excellence in your online efforts.
UPCEA Research and Consulting — The best value in the industry today.
Informed decisions. Ideas that work. The data you need.
Reasonably priced and all in one place from the experts in professional, continuing, and online education: UPCEA. Whether you need benchmarking studies, guidance for your online enterprise, market research for a new program, or specific information to evaluate and develop strategies to take your programs to the next level, UPCEA Research and Consulting is the right choice. Consulting is offered via the UPCEA Research and Consulting site. UPCEA also offers peer review teams for on-site visits. See who we've worked with at upcea.edu/clients.
Free resources from our top consultants!
Members get more!
As an UPCEA member, you have access to research and benchmarking studies via CORe, and can use our popular Second Opinion program at no charge. Our consultants are available to provide short, rapid-response consultations on questions that require an independent, expert perspective.
Timely, Actionable Communications
The UPCEA magazine, Unbound: Reinventing Higher Education, is an e-publication in magazine format designed to showcase thought leadership, case studies, research and other valuable contributions to the field. Unbound welcomes articles from all those who are involved in higher education, especially those who work with adult students. We consider ourselves a learning community, extending beyond the classroom into the larger community. All who have ideas to share about the direction and future of education are welcome. Visit unbound.upcea.edu.
The UPCEA Briefing is a weekly primer designed to position our members as thought leaders on their campuses. The Briefing provides timely, topical, and trending information that members can apply in their programs and departments. Ray Schroeder's daily blog, the Professional, Continuing, and Online Education Update by UPCEA, is a curated collection of higher education news articles with relevance to members. Visit bit.ly/PCONews.
---
Blogs
UPCEA blogs feature posts from industry experts and thought leaders on the latest in online and professional continuing education, including online leadership trends, marketing and enrollment research, instructional design, and more. Check out some recent blog posts below and visit upcea.edu/blogs to explore all UPCEA blogs.
About fifteen years ago, I hosted a pre-conference dean's workshop at UPCEA's Annual Conference. I opened the session by asking participants to compare their units with those of the person next to them.  Not surprisingly, they highlighted their dissimilarities. Were this a meeting of, say, law school deans, they might have commiserated over mutual challenges…
Read More
Career Center
Looking for that perfect person to fill an open position at your institution? Get the responses you want from the UPCEA job board. UPCEA hosts online job recruitment advertisements for both UPCEA members and non-members.
Volunteer and grow as a leader, presenter, or mentor
Take an active role in your membership! Members are encouraged to serve as volunteer leaders — there are many ways to get involved:
✚ Be an ambassador, "conference buddy" or mentor
✚ Submit a proposal to present at conferences
✚ Serve on a regional or network committee
✚ Join a network and share your knowledge
✚ Volunteer on different regional and national teams
✚ Join the UPCEA Diversity & Inclusion Committee and help shape D&I efforts in the association and field
✚ Submit an article for Unbound, UPCEA's e-journal
✚ Post on CORe and join the conversation
Showcase your excellence with membership awards!
Association Awards
The Association Awards Program includes recognition of both individual and institutional achievement across the UPCEA membership. UPCEA recognizes its members' outstanding contributions to the Association and the field,
as well as their achievements in innovative programming, marketing and promotion, community development and services, research and publications, and other areas.
Click here to learn more about Association Awards.
Each of the five regions host individual awards programs. Awards are presented at regional events.
Click here to learn more about Regional Awards.

The Marketing, Enrollment, and Student Services Network sponsors an annual competition — the UPCEA Marketing Awards — to recognize the best marketing practices and promotional pieces in the field of online and professional continuing education. We invite Association members to enter their finest work for the academic year in the awards competition. The entries are reviewed by a panel of marketing, communication, and design professionals. Winners are chosen and announced in the fall.
Click here to learn more about Marketing Awards.

Care and maintenance + Customer service
You can log in and update your member information at any time, or call the Washington, D.C. office if you need help updating your organization's roster. With your list of professional members up to date, you and your colleagues won't miss any important communications from UPCEA, including research and studies available only to members delivered right to your inbox!

Need help mapping the details? Call us!

To add more professional members to your organization's roster, call us at 202.659.3130 and we will be happy to work with you. Our Washington office is open Monday–Friday, 9 a.m.–5 p.m. ET. We're here for you! If at any time you have questions, concerns or need more information to get the most out of your UPCEA membership, call us! UPCEA team members will answer your questions or point you in the right direction. Or feel free to email us at [email protected].